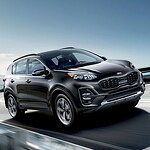 At Sale Kia, we have the Kia Sportage available. If you are interested in a small SUV for traveling or commuting, the Kia Sportage has excellent power and style options for any length of a trip.
Come try out the available 240 horsepower turbocharged engine in the Kia Sportage. If you like to travel, you may also be interested in the sport-tuned suspension as well as we all will drive features for the Kia Sportage. Excellent handling is a definite plus with this Kia.
The Kia Sportage is definitely stylish with conveniences such as exterior LED lighting for maximum visibility as you drive in the evenings. There are also heated and ventilated front seats, which are wonderful when you travel in extreme weather conditions. In addition, the 19-inch available wheels go hand-in-hand with the excellent suspension and handling for a Kia Sportage.