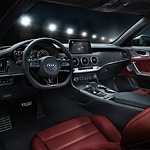 The Kia Stinger is an executive compact car that first hit the market in 2017. It has quickly garnered favor for both its sleek good looks and powerful engine specifications Learn how the new Kia Stinger can be the ideal vehicle for your driving needs today at Sale Kia.
To start, the new Stinger from Kia comes equipped with a powerful turbocharged engine that gives it unprecedented power on the road. You can go from zero to 60 miles an hour in mere seconds. You can easily keep up with traffic and accelerate up inclines thanks to the Stingers impressively built engine.
The new Stinger also offers a balanced and easy-to-handle ride. It comes with shocks, axles and other undercarriage parts that are built specifically for safe driving. You can take your new Stinger out on the highway or city roads and know that it will offer you a smooth, safe and comfortable ride.