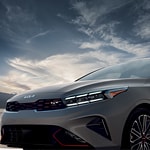 The new Kia Forte has outstanding technology features to suit your fast-paced lifestyle and needs. It's a sleek sedan offering distinctive new designs and styles, incredible efficiency, an excellent driving experience, and more.
The new Kia Forte helps you achieve the comfort and convenience of a stylish cabin. It delivers a wide range of top-notch features, including an 8-inch touchscreen display, an automated-dimming rearview mirror, a leather-folded steering wheel, and much more! If you want more information about the Kia Forte trim levels, their performance, and safety features, visit our dealership in Kinston. Our team will be happy to help you in the best way possible.
The new Kia Forte comes with state-of-the-art safety features for the driver's peace of mind. Whether you're an experienced driver or not, you can drive this vehicle within your comfort zone. The car comes standard with a rear-camera display, front fog lights, lane change assist, and anti-lock braking technology for your enhanced safety while driving on the road.